Viviane Aires Skin Wellness wins Best Facial in Philadelphia – Reader's Choice 2023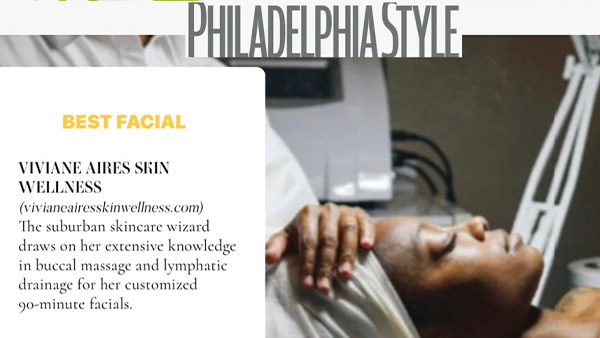 Viviane Aires Skin Wellness was recently awarded as the " Best Facial" in Philadelphia by Philadelphia Style Reader's Choice. With over two decades of experience as an award-winning esthetician, Viviane Aires founded her boutique facial studio in 2020, which quickly gained a high demand waiting list. She is renowned for being one of the best and most innovative estheticians in Philly, with a focus on treating skin of color concerns and aging using Sculpt + Lift Buccal Facial massage and advanced skincare devices. Viviane's background in massage therapy also adds to the quality of her facials.
IMAGE
 "The skincare wizard draws on her extensive  knowledge in buccal massage and lymphatic drainage for her customized 90 minute facials" – Philadelphia Style Magazine
VASW offers a wide variety of services, including highly lauded customized facials, microcurrent, oxygen infusion, microchanneling ,dermaplanning and buccal facial massages. Additionally, VASW has a highly curated online boutique that carries cosmeceutical and organic skincare lines, specifically addressing concerns such as acne, hyperpigmentation, menopausal skin, and teen acne. Viviane's expertise has earned her a loyal following of clients and social media followers.
Viviane's dedication to skincare goes beyond her expertise in esthetics. She is also committed to using safe and sustainable products that are both effective and eco-friendly. Her online boutique features a range of products that are free from harmful chemicals, cruelty-free, and packaged using sustainable materials.
Along with her focus on skincare, Viviane is also passionate about providing a relaxing and rejuvenating experience for her clients. Her studio is designed to create a peaceful and comfortable environment, offering a tranquil escape sprinkled with her Brazilian culture.
It's no wonder that Viviane Aires Skin Wellness has garnered such high praise and a loyal following in the short time since its inception. With her expertise, commitment to sustainability, and dedication to providing a soothing experience for her clients, Viviane is truly one of the best in the business. If your are looking for guidance towards a clear, healthier looking skin, Viviane is your go to esthetician. BOOK YOUR FACIAL NOW! But if you don't live in the Philly area, she also offer Virtual Skincare Coaching Sessions.