What is Vegan Makeup? With celebrity makeup artist Ashunta Sheriff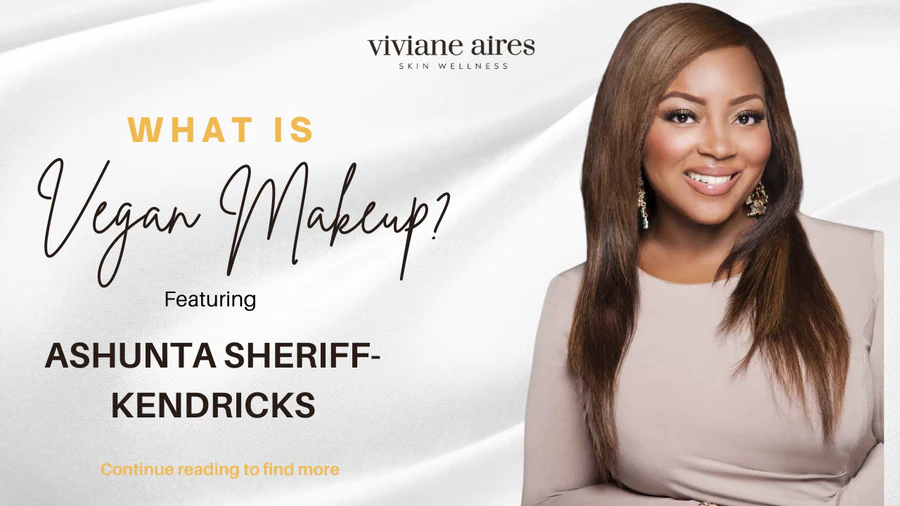 The Future of the Makeup Industry: Here's What to Expect. 
We've seen an explosion of vegan-friendly beauty products, and I couldn't be happier. Especially because this means there are more options than ever before for those who want to look their best while also avoiding animal-derived ingredients in their makeup.
The world of makeup is quickly evolving – the landscape is becoming more sustainable and vegan. Vegan cosmetics are gaining popularity among customers more concerned about animal welfare, environmental sustainability, and personal wellness.
There are many well-known makeup artists launching their own vegan makeup lines, but one of my favorite ones is from Ashunta Sheriff. She is constantly working to revolutionize the makeup industry by creating cruelty free vegan makeup products. I had the honor to interview  the incredibly talented and renowned makeup artist, Ashunta Sheriff on our The Be Bonita Podcast this month. We talked about her new vegan makeup line, what is the creative process when working with a celebrity such as Taraji P. Henson and so much more. So grab your favorite cruelty-free lipstick and let's dive in!"
Taraji P. Henson getting ready at The Mark Hotel. 
Photo: Photographed by Dani B for The Cut 
Makeup by Ashunta Sheriff
Q: What Exactly is Vegan Makeup?
The term "vegan makeup" refers to cosmetic goods that have not been tested on animals, do not include any components or by-products produced from animals, and do not contain any substances obtained from animals.
Some of the most famous products include vegan matte lip creams, a vegan Groucho for laying down brows and edges, puffs with a new design, a new thermal blush that adjusts to one's body chemistry, a Unicorn Duochrome Highlighter, and a UV collection with eight UV liners, six mascaras, and biodegradable plant fiber magnetic lashes.
Unicorn Duochrome Highlighter,
The above-mentioned makeup products were introduced by none other than Ashunta Sheriff. For those of you who don't know her, Ashunta Sheriff-Kendricks is a well-known name in the beauty industry, with over 20 years of experience as a celebrity makeup artist. She has worked on major Academy Award-winning motion pictures and has become a go-to artist for many A-listers in Hollywood.
Ashunta Sheriff Kendricks Celebrity Makeup Artist and founder of Ashunta Beauty 
Inspired by her years of experience in the industry, Ashunta decided to create her own brand – Ashunta Sheriff Beauty. The brand is focused on bringing easy-to-use, quality makeup products that cater to all skin tones.
Despite her success, Ashunta felt that something was missing. She wanted to create a brand that would cater to women of all skin tones and make them feel confident and beautiful. With this vision in mind, she launched Ashunta Sheriff Beauty.
The brand offers a range of products, including foundations, concealers, lipsticks, and eyeshadows, all designed to enhance natural beauty and make women feel confident. The products are easy to use and come in a variety of shades to cater to different skin tones.
Q: Should Makeup Artists Focus on Their Makeup Brands?
Yes, absolutely! There is a lot of importance of makeup artists like Ashunta creating their own products, as they have the necessary knowledge of both makeup and products to create high-quality products that meet the needs of all types of people.
We should emphasize the importance of investing in products created by makeup artists who deeply understand ingredients, skin texture, and the needs of different skin tones. The importance of making mindful and conscious decisions when investing in self-care, such as cosmetic and skin care products, should also be highlighted.
Q.What Makes Vegan Makeup So Important?
The following are some of the many reasons why vegan cosmetics are important:
The cruelty-free cosmetics cannot be defined as makeup that has been tested on animals since vegan makeup is not tested on animals. This is significant because of the harsh and pointless nature of animal testing and the abundance of other testing techniques that do not include the use of animals.
The majority of individuals who use vegan cosmetics attest to the fact that it is healthier for their skin and for their health in general. This is because vegan makeup does not include any harsh chemicals, artificial scents, or other dangerous components that might irritate the skin or lead to other health issues.
Environmental Advantages:
The manufacture of products containing animal-derived materials may be detrimental to the environment since it often entails activities such as deforestation, water pollution, and other forms of environmental damage. It is possible for us to have fewer negative effects on the environment if we switch to vegan cosmetics.
By selecting vegan cosmetics, we are lending our support to businesses that are actively working to improve the well-being of animals and fostering a more moral and compassionate world.
Q. What Will the Future of Makeup Look Like?
The capacity of vegan makeup to give a cruelty-free, healthful, and environmentally friendly alternative to regular cosmetics is one of the most important aspects of vegan makeup. Regular cosmetics are often created with animal-derived substances and are tested on animals.
The cosmetics business is always adapting and modernizing in order to stay up with the latest fashions and technological advances. Even understanding how to apply a matte lipstick properly can make a lot of difference in your appearance. Hydration and moisturization, as per Ashunta is of keen importance in the future of makeup.
In the next years, the cosmetics business is likely to see a number of shifts and developments, some of which include the following:
As customers become more environmentally concerned, they are also becoming more aware of their purchase choices' influence. It is expected that the cosmetics industry will react by producing more products that are sustainable and kind to the environment.
The usage of augmented reality and virtual try-on technology will continue to develop, enabling customers to see how cosmetics will appear on them without having to put them on physically. This will be made possible by the proliferation of digital technology.
Although the cosmetics business has already achieved great success in terms of inclusion, there is still an opportunity for advancement in this area. It is reasonable to anticipate that there will be an even greater diversity of representation in marketing campaigns and product offers in the not-too-distant future.
With the assistance of technology and data analytics, cosmetics firms will be able to provide customers with more individualized experiences and goods in the near future. Hybrid skincare-makeup products are becoming more popular as consumers emphasize natural-looking cosmetics and skincare products.
It is expected that the cosmetics industry will react by releasing an increased number of products that combine the advantages of cosmetics and skincare. In the long run, the factors of innovation, sustainability, inclusion, and personalization will be the ones to influence the direction of the cosmetics business. Also, if you want to know more about Ashunta and her beauty realm, you can checkout her Instagram!
You can listen the complete podcast interview, here.